Hiya all =) loooong time no blog! I've been SOOO busy with college, it's ridiculous. I had Oberlin, and Eastman auditions here in LA, and the next week, I flew out to Cleveland (Ohio) for CIM, came back the day after to LA, went to school to take early finals, and left that night to San Fransisco for SFC. Spent the night there, came back to LA after midnight, pulled an all-nighter studying for my finals, spent the next day making up all my finals and whatnot. And FINALLY, today, I had my USC audition here in LA. :) Now.. I HAVE TIME TO BLOG!!!!!!!!! Well, at least I have two weeks before the madness starts again... I still have to go to IL and NY! ;__; so tired...
Anywho! My lovely cousin Hye Kyoung and aunt came from Korea, so my family and I've been taking them shopping nearly everyday--nearly resulting in this unusually massive haul (at least for me!).
I asked my cousin to buy me a few things from Korea :) From the left: some lipsticks by MAC, CLIO, & Rimmel, Kate Kannebo Eyeshadow, Etude House Shadow in no.7, Bobbi Brown Gel Liner in Black, Victoria's Secret lipstick, lipgloss, and brown mascara, Maybelline Dream Matte Powder, MAC 217, and a sample of MAC's discontinued Lip Erase. On a side note, I got the Hello Kitty Card!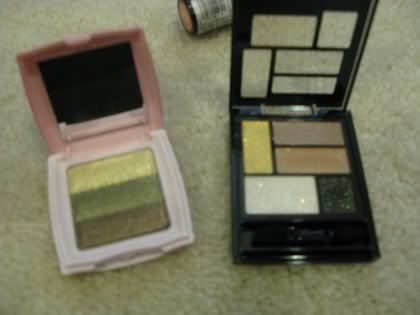 Etude House and Kate Kannebo shadows =)The Kaki color is SOO pretty, and the Kate pallete's light brown is the perfect tone!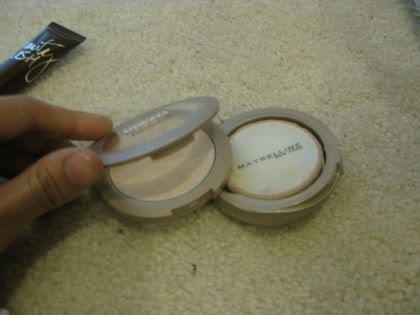 Maybelline's Dream Matte Powder--is AMAZING! It's VERY VERY VERY comparable to my MAC Studio Fix powder. It's definitely great for oily/combination skin types like me. Definitely gives you that matte look. I don't use it for setting my foundation, but instead for touch-ups to blot my face with, because it's rather drying. If you're looking for a cheap compact, go for this one! I got mine under $10.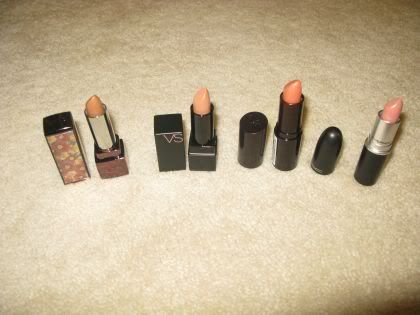 CLIO Lippy in Beige--it's very natural/orangy :)I LOVE orange lipsticks, so we match pretty well. Victoria's Secret Lippy in the nude color (can't remember-it's just the very nude/foundation color), Rimmel Lippy in Crush (SOO CUTE! it's orangy too), and Hue by MAC. I've been looking for the perfect nude lipstick lately, and went to MAC--the MUA matched me up with this color.. but I think i'm going to take it back. It's not a nude color!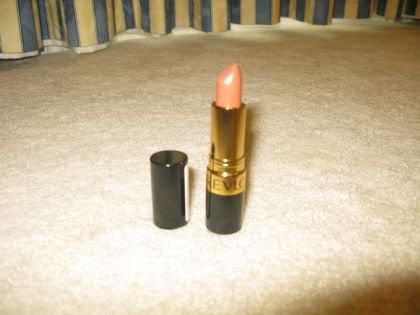 Forgot to add it in the previous picture: This one is a discontinued one I bought off of Ebay. It's called Naturally Nude by Revlon. It's just a very natural color. It's a brownish/neutral color with little peachy undertones. It's alright, but ehh.. I was really expecting something great.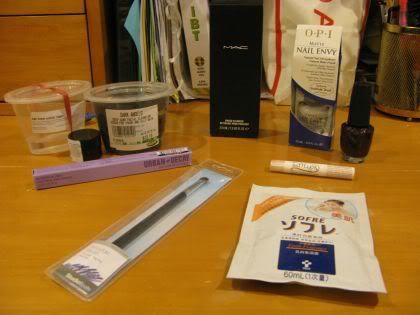 Moving on to another portion of the haul~ :P Some Lush products and samples, MAC brush cleanser, OPI Matte Nail Envy, and Lincoln Park, Studio Tools Smudge Brush(CHEAP and good @ Target!!), Urban Decay liner in Ransom--WHICH IS A COLOR I'VE BE EYEING FOR THE PAST 2 YEARS--NO JOKE! My cousin bought it for me :)) A milk bath packet, and the brand new Softlips in Pearl! It says it's a tint, but it's just an iridescent neural pink. It's SUPER pretty! :)) As for the brush cleanser, I haven't even opened it yet ;) and the OPI Matte Coating.. I purchased this for $16.95 at a Trade Secret in Ohio. It was VERY expensive compared to my other OPI top-coat... so I tested it out, and its long-run benefits may be great, but any other top/base coat will do just as great. I'm returning this. It's wayy too expensive!!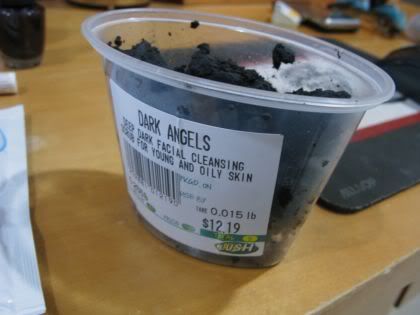 So, i've been running out my St. Ives Apricot Scrub for Blemish & Blackhead Control (WHICH IS MY HG CLEANSER!), and I just happened to run into a Lush (I don't have one near my neighborhood), so I picked up a scrub. It's called Dark Angels, for oily and acne prone skin. The man at the store told me it's black because of the charcoal/soot in it--which also has little chunks for exfoliation. It also contains grapefruit extracts and.. one more thing to cure acne/control breakouts. So far, I REALLY like it! But it's a little bit drying for me--which is really SCARY, because there is seriously noone oilier than I am. It's a bit on the harsher side, so I can't use it on a daily basis. So instead, I use it every other day, rotating it with a Clean and Clear Foaming cleanser--which is really nice :) [it wasn't working out for my cousin, so she gave it to me~]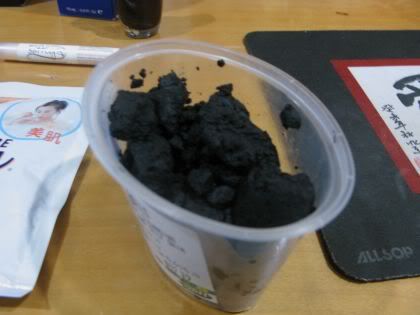 It seriously just looks like coal!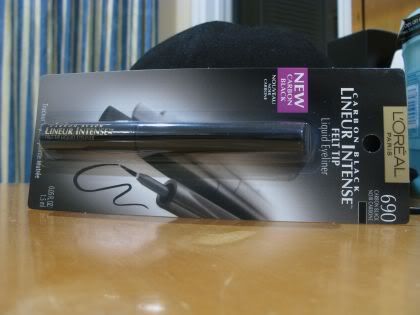 Last but DEFINITELY not least, the L'Oreal Carbon Black Lineur Intense. People have been raving on about this for its fantastic felt-tip applicator, but I never paid much attention to it, because I suck with liquid liners anyway [go BB Gel Liner!]. And not to mention, I get an allergic reaction to most liquid liners, including the Revlon Colorstay Liquid Liner, and Maybelline's Ultra Liner (this one actually like.. flakes off, its so weird). Anywho, I saw it on the shelf and picked it up, because I actually really like the clean finish liquid liners give you. Oh my goodness, I cannot say.. it's FANTASTIC! It's a GREAT liner for starters with liquid liners like me :) The felt tip gives you absolute control, and gives a precise application. I LOVE it. It's stay power is fantastic, and comes right off with any cleanser or makeup remover. It also doesn't give me that itchy allergic reaction!
And, before I close, sorry if some of the picture qualities are terrible and unfocused. I don't really know how to use my camera--and about a couple months ago, I touched one of the settings, and my camera wouldn't focus on near objects. So just 2 days go, I finally figured out how to fix that problem! So from now on, all of my pictures will be crystal clear :))
Stay tuned for another update! <3
Best,
Jinna