Hiya lovlies! As always, thanks for stopping by :") I've actually started this blog thinking noone would read it, but I've got so many supporters and followers! Thanks once again! :))
Here's my FOTD. It's my first day of spring break, so I just wanted to relax and do nothing :B As a result, I woke up nearly at noon, ate some french bread with brie cheese spread, watched a bit of tv, got bored, and threw on some makeup :)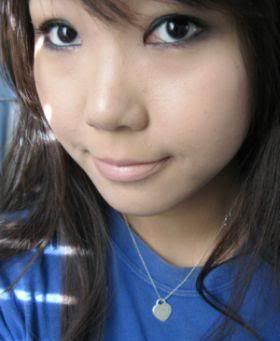 Here's what I used for my eyes!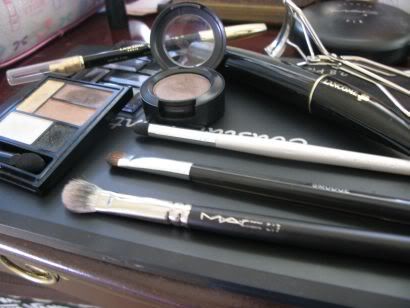 -Kate Kanebo Eyeshadow in BR-1
-Lancome Le Crayon Khol in Rasin Noir
-MAC eyeshadow in Satin Taupe
-MAC paint pot in Soft Ochre
-Lancome Hypnose Mascara in Black
-Shiseido Lash Curler
-MAC 217 Brush
-Studio Tools Smudge Brush
-ELF Sponge Smudger
Here's a close-up of my eye: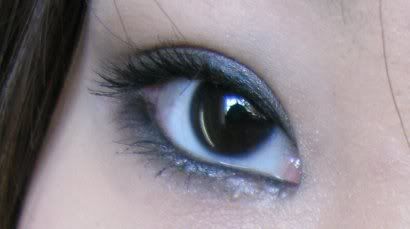 Here's what I used for my face 8) :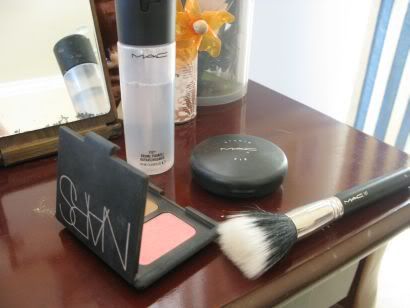 -MAC Studio Fix Powder in NC 30
-MAC Fix Plus
-NARS Blush in Orgasm
-MAC 187 Brush
Here's what i'm wearing on my lips!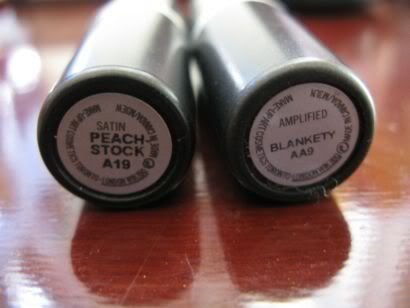 -MAC Lipstick in Blankety
-MAC Lipstick in Peachstock
Here's a closeup: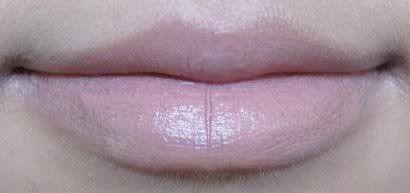 Directions:
1) Apply Soft Ochre PP (or any base) all over the lids; concentrate it on the brow bone and inner tear ducts--if using base instead, just use a light skin-tone shadow to highlight.
2) Place Satin Taupe ES (or any smokey chromatic color) strictly on the lid only--below the crease.
3) Using a clean blending brush, blend out the harsh line, and concentrate the color onto the outer corners of the eyes.
4) Using the lighter brown in the Kate palette (or a neutral brown shade), blend out the edges of the darker lid color into the crease.
5) Using a soft black eyeliner pencil (preferably a kohl liner), rim your top and bottom water lines. Line the top part of your lids closest to the lashline as possible, and apply on the lower lashlines as well.
6) Using a sponge, smudge out the liner to fill in any gaps.
7) Using a smudger brush, dip it into your lid color again, and smudge over the liner on your top and bottom lashlines.
8) Reline your lashlines with your pencil to intensify the black again.
9) Apply Mascara to both upper and lower lashes.
10) Curl lashes! - I do this afterwards because if I do before, it's harder for me to coat my lashes evenly with the mascara; also, if I do this after, it holds the curl longer. It's your preference!
11) Apply Peachstock Lipstick (nude lippy) to the outer edges of the lips very well. Apply Blankety Lipstick (light baby pink) on the inner part of the lips for more color.
I hope you enjoyed this post! :") Leave me comments with your suggestions and requests for the upcomming ones!
See you on the next one!

Sincerely,
Jinna<3