Hey all C:
This is just a post on what skincare and make-up essentials I brought along with me on my trip to Seoul over the summer break. I didn't bring much of anything, since the weather is so hot and humid in Korea during the summer, I knew I wouldn't be wearing any make-up. Also, if I wore eye make-up, all the people would think I'm some rebellious daughter, since most girls my age there would be at a point in their lives where they have to study like no other to get into college :P
So here goes!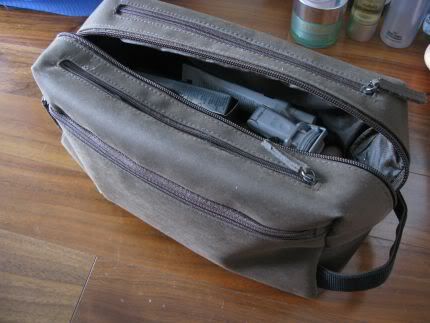 This is my travel beauty bag :) It fits EVERYTHING in here!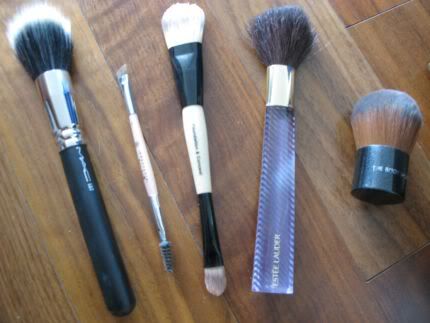 These are the only brushes that I bought with me--all face brushes! I did also bring liner brushes, but they aren't photographed. :) From the left: MAC 187, Anastasia Brows Mini Duo Brush #7, CVS Concealer/Foundation brush, Estee Lauder Blush Brush, & The Body Shop Kabuki Brush.
Here's the foundations I chose to bring along--MAC Mineralize Skin Finish Natural, Afterglow Cosmetic's Mineral Foundation, MAC Studio Fix Powder,& Sally Hanson's Spray Foundation (AMAZING!! review comming up!).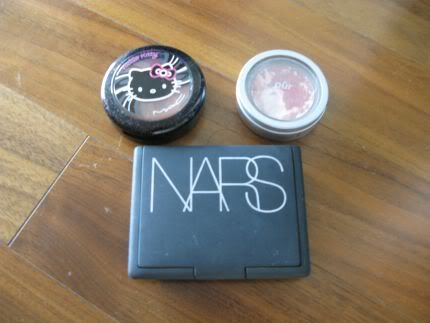 Blushes! Pur Minerals' Marble Blush Powder, NARS Orgasm/Laguna Duo, MAC Hello Kitty "Fun and Games".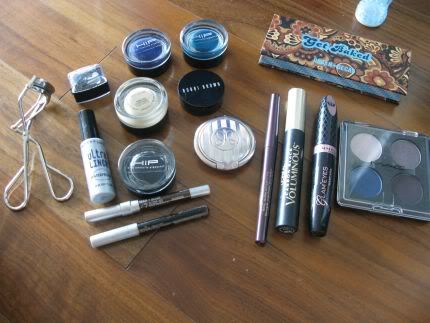 And.. just a couple things for the eyes :) I went wayy overboard on bringing so many eye products, when I couldn't wear them half the time :p
Now.. for skincare!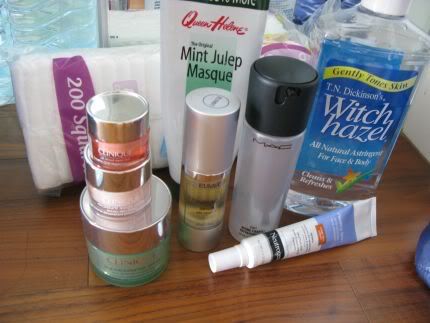 I bought along...
From the left: Clinique's All "About the Eyes Rich" Eyecream, "Moisture Surge Extra" Gel Moisturizer, "Superdefense SPF 25" (yeah, it's spelled with an "s"!) for combination oily to oily Skin types (there's so many types for this same product!), EUMIA "Clarifying Serum with Vitamin A", MAC FIX+ Spray, T.N. Dickinson's Witch Hazel, Queen Helene's Mint Julep Masque, Neutrogena "Healthy Skin--Anti-wrinkle/Anti-blemish" clear skin cream, & my St. Ives Apricot Scrub "Blemish & Blackhead Control" (not pictured).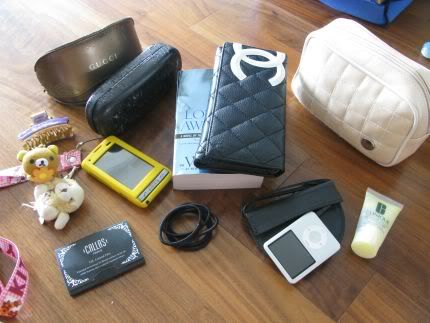 Here's all the rest of the junk I carry in my purse! My Ipod, make-up bag, book, wallet, cell, moisturizer, hair ties, oil blotting paper, sunglasses, and glasses! Yeah, I carry a LOT of things. If you look carefully, you can see both my sunglasses' and glasses' cases by Gucci are DESTROYED by my dog's teeth. Damn, he loves those leather cases...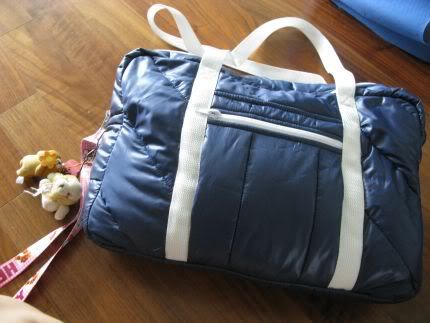 And they all snuggly fit in my bag! I got this from American Apparel--you can buy it online or at their stores (http://www.americanapparel.net). Isn't it adorable?! They also have it in leather and in different colors, but I like this one alot. C;
On a side note, I managed to pick up Lancome's Virtuose Mascara at the Duty Free store in the airport! It's absolutely fantastic for volume, but not much of a lengthener! I have to use a legnthening mascara with it to produce my desired outcome. The brush is curved--the hollow side for volume, and rounded side for legnth!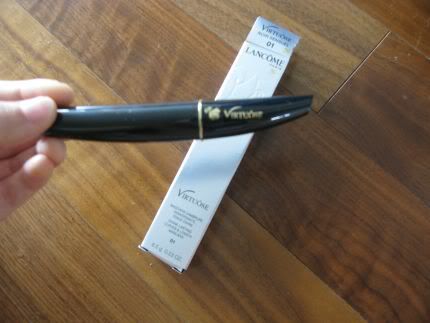 Here's to those who love them beauty hauls!
Cheers!
~Jinna :))