So! I received this palette awhile back, but never had the chance to post about it! This palette is by Miss Rose, a Chinese brand manufactured in Hong Kong. I purchased it on Darline's blog sale site--http://whatever-darl.blogspot.com/ check it out! She has everything from clothes, shoes, leggings, to makeup!
I first ran into this palette in one of RoseBabe's videos. If you're not familiar with her, she's a guru that is highly underrated on Youtube. She is just fantastic. I saw a couple of her looks made with this palette, and it just sent me bonkers to find it. After MONTHS of searching, I was FINALLY able to get my hands on one of these. Miss Rose has other palettes, but I like this one alot. You can purchase them on ebay by searching "wet eyeshadow".
SO! This palette has a wide range of colors--from champagnes, pinks, golds, silvers, blues, greens, purples.. you name it! It has graduations from a highlight color to an intense liner color. The pigmentation of this is absolutely fantastic. You can either use it wet or dry, but using it dry already looks like it's wet when applied! The colors are SUPER vibrant even without a base.
All of the colors are shimmery. The texture of the shadows are very sponge-y. As in.. if you pressed down on the pans, your finger would leave an indent in it. There is a bit of fallout, but it's worth it, and doesn't waste product. You don't need much!
Here's some pictures!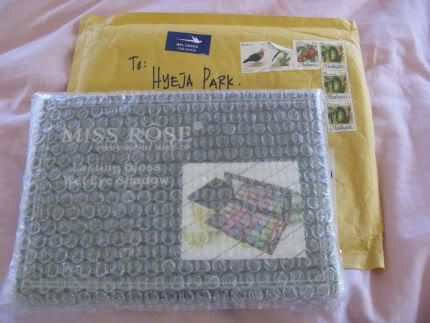 Woot! Finally got it. (yeah yeah yeah, my mom's name is Hyeja. That's what you get for using her credit card!)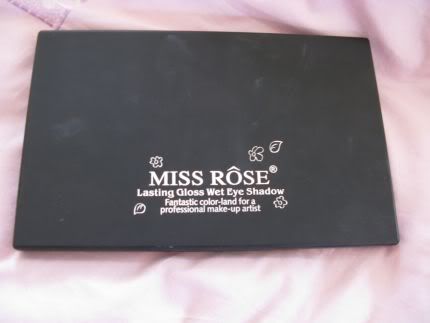 Here's the outside--the case is really sturdy!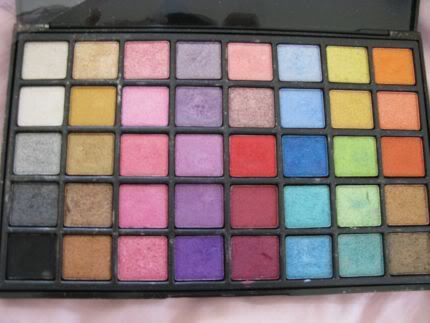 Here are the colors! Aren't they vibrant?!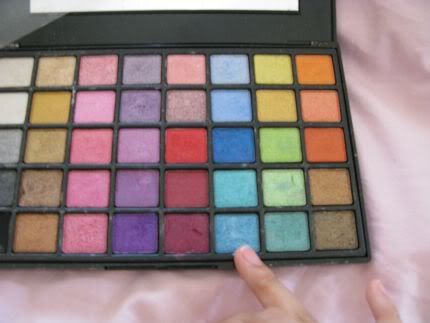 Selecting this blue/green color...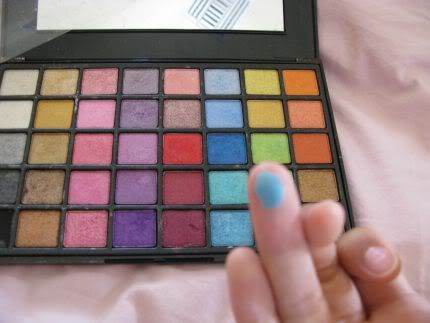 I BARELY ran my finger across the pan, and look how vibrant the color is!
Here's the swatch-- I have no primer/base on my wrist!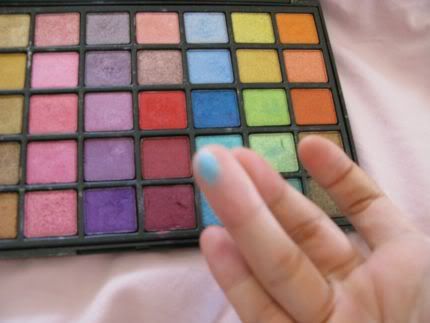 After all that, look how much there's left on my finger!
Overall:
Quality--9/10 (I really don't like the fallouts, it gets messy)
Texture--10/10
Pigmentation--10/10
Packaging--10/10 (for a palette!)
Comments:
I wish some of the colors weren't shimmery! Since they all are, you can't really wear an of these fantastic colors in broad daylight. Save em` for those clubbing nights or for a fun night out!
~Jinna