Many of you are probably already aware of what this is, and just how amazing this is. =) This is my ALL-TIME FAVORITE mask! It's one of those very few masks where you can actually feel the difference as well as see the difference on your skin. The mask comes in either a tube or a jar.
CVS used to carry them in the tubes, but just recently, they've stopped. Just 2 weeks ago, I asked one of the stockers, and they say that they think it's either discontinued, or just not making it in the tubes anymore. HORRIFIED, I went directly to the closest Sally's Beauty Supply store. They carried it in the jar--which is larger than the tube. I bought it right away!
Mint is a natural remedy for many things. While mint oil is a good anti septic and anti pruritic, mint juice is also an excellent skin cleanser. It soothes skin, cures infections, itching etc., and is also good for pimples. Its anti pruritic properties can also be used for treating bites of insects like mosquitoes, honey-bees, hornets, wasps, gnats etc.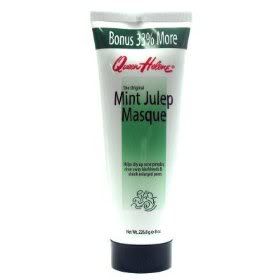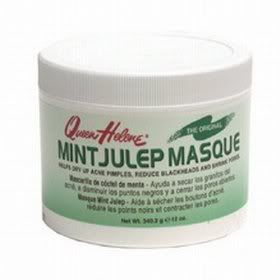 The texture of the mask is a clay. And guess what? It's betonite/kaolin clay! That's the stuff used in those ridiculously expensive volcanic clay masks you can get at a spa! But this stuff is only around $5!
The clay claims to dry up pimples and shrink enlarged pores. Does it actually do it? Yes! absolutely. This clay contains sulfur, which is used to treat acne. It also has Zinc Oxide in it, which is found in the Earth's deepest layers--which is used for mineral makeup. There are also no harmful chemicals, as well as artificial coloring. The mask is its natural color.
Now... after cleansing your face, apply the mask and spread it evenly. I concentrate the thickness on my t-zone. (especially my nose!)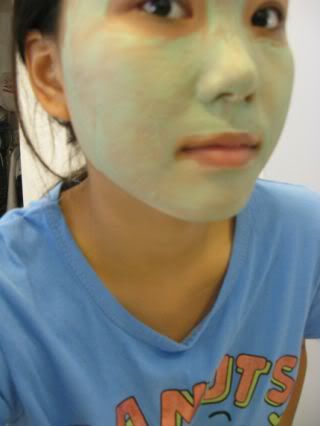 Let it completely dry. It'll take about 10 minutes max.
When it's dry, you can see the oils and impurities that have been soaked up by the mask--even you just washed your face! (gross!) So all of your pores will be visible. I'm warning you, it doesn't look so pretty...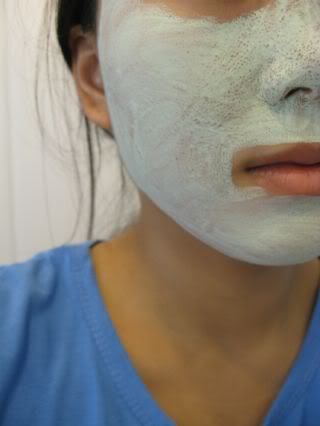 yeh yeh yeh, I know, it looks pretty nasty.
Wash it all off with luke-warm water. But after, I like to rinse off with icy water to re-tighten those pores. Use a washcloth if you have to! It takes a bit of effort to get it all off. Finish it off with some toner--to pick up any leftover residue, your treatments/serums, and your moisturizer! I wish beautiful skin for the both of us!
-Jinna