Hey homefries :)
After an early session of a cello lesson, it was fairly early--6PM~ish. The Amore store across the street was still open; oh what the hell, I ran out of masks recently anyway ;)) Just in case those who are wondering, Amore is a huge Korean cosmetics company. Amore is the company that owns the branches Hera, VOV, CLIO, Laneige, etc. Sort of like how Shiseido is the main branch for Cle De Peau.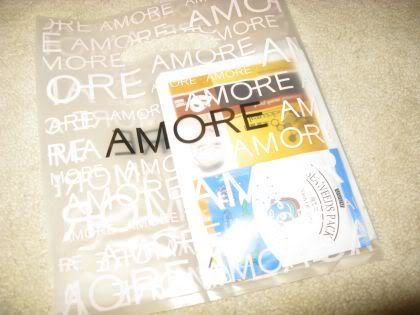 Here's the cute bag :P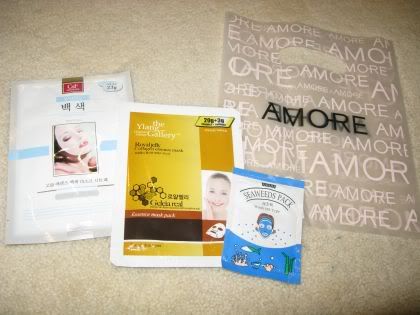 Only got three, but thought I'd share!
This is seaweed mask! Because the cover has a blue mask on it, I was expecting a blue mask XD but... turns out it just looks like goo. :p Like greenish Aloe (even aloe is green...). It's one of those masks you rinse off after letting it air dry for a couple of minutes. It doesn't feel like a mask! It actually feels like a heavy night cream. I didn't want to wash it off! Seaweed helps blood circulation, so I wanted to keep it on for long as possible :) I LOVE this!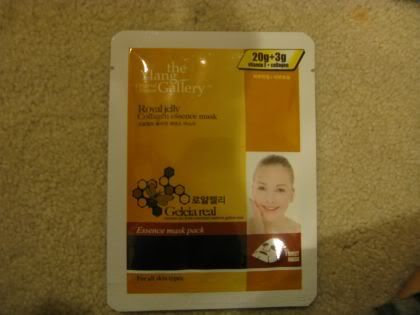 This one's with Royal Jelly in it. I've always heard good things about Royal Jelly for your skin, but I've always been familiar with it because a lot of Asian vitamin supplements/health enhancers tend to contain Royal Jelly. I haven't used this one yet, but i'm guessing it'll serve close to a collagen mask, with anti-aging properites.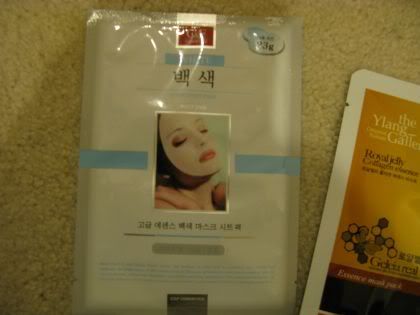 I also got a brightening/whitening mask! These things always work, and leave me face smelling wonderful :)) I've used this company before, but never the Whitening one. I hope it'll give me some great results... Amore makes excellent whitening masks as well! But they are a bit on the pricier side :P
The weather is starting to get cold, and the sun is hardly visible when i'm out. I hate the feeling of oily/greasy sunscreen, but wear it everyday anyway. Because I'm using more hydrating moisturizers due to the drier weather, (even I have oily skin) my skin just feels nasty with the SPF smothered on top. I have found a solution!
This is a popular product during the summer in Korea. It's by a branch called IOPE, also owned by Amore. It's basically sunscreen, but in a powder form! It's a loose powder, and it's transparent. Because it's so humid during the summer in Korea, this is a great option for women to turn to. It gives a matte finish, and it doesn't get oily at all. It serves like a blot powder! The picture is blurry, and I'm too lazy to get up and check... I believe it's SPF 45 PA+++, or something on those lines. ;)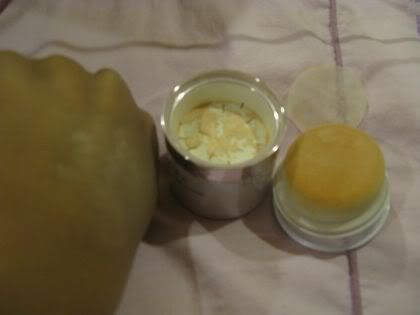 It's finely milled, and there's a part where you can twist it, and it grinds out more powder. It also comes with a built-in powder puff for touch-ups throughout the day. It comes with extra replacements, of course. You can purchase this product at any Korean cosmetics counter that sells IOPE products. It won't be hard to find, since most counters carry IOPE.
EDIT: I don't know why, but I wasn't too happy with the powder today... It settled into my pores alot! I was rather oilier today, and I think that's what it was. I don't recommend this if you have extremely oily skin.
Till next time! :)
Best,
-Jinna