Yepp, that's right, KIRKLAND's brushes. Once again, yupp, the Costco brand. I was a bit surprised myself! I saw S2pandapple's video comparing this years to last years, and I didn't even know they sold brushes. I went ahead and remembered to pick it up the next time I went. It was only $20! ... let me tell you, that's ALOT of brushes it comes for $20. The quality is fantastic, sturdy, and hygienic.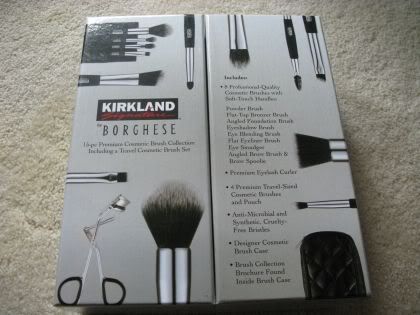 All of the bristles are synthetic fibers, so go crazy with all of your different types of products! Cream, liquid, powder... you name it. All of the brushes are incredibly soft. They're all very sturdy--the handle is a rubberish material, and the barrel of the brush is very well intact onto the handle. I haven't seen a single hair shed when I washed them for first use. I guess this is what it means with consumer surplus! (LOL go ap economics?) I totally was expecting the quality to be crappy, considering it was from Kirkland, and its price. Boy, was I wrong! This brush set just blew me away.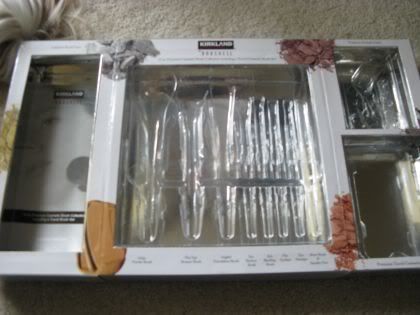 It comes with Full sized brushes, a mini travel kit, brush bags for both of the brush kits, and a lash curler (and an extra rubber head).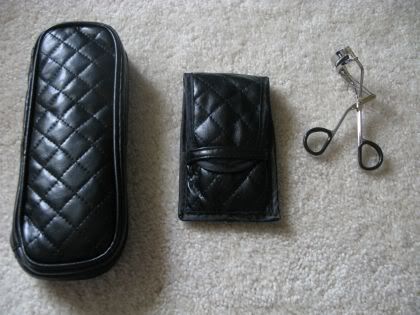 This is the case for the full-sized brushes, travel kit, and lash curler. I was surprised how so many big brushes can fit into such a small bag... The lash curler... is sort of like the ELF one, but the metal part where your eyelashes are being pushed onto is a bit sharp, and I'm afraid it's going to chop off my eyelashes...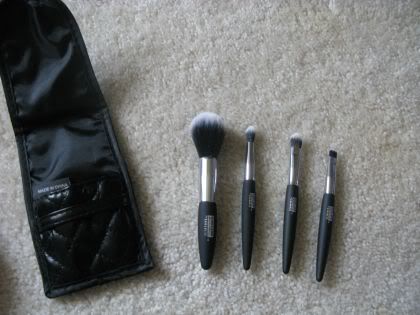 Here's the travel kit~! Isn't it CUTE?!!! It comes with a powder brush, crease/blending brush, shader brush, and a flat liner brush. Usually, travel size brushes suck, but this kit REALLY is the same exact brush, but shorter/smaller.
Fits real snug :)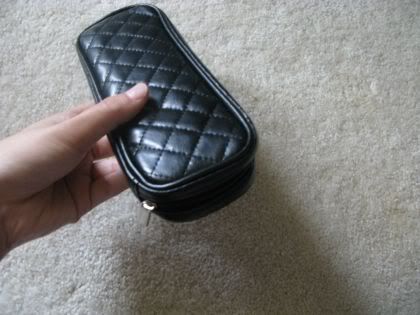 Here's the full-sized brush case.
Comes with flaps to protect the bristles and prevent any leftover product from going everywhere.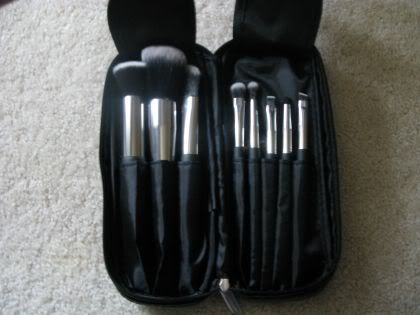 Tada~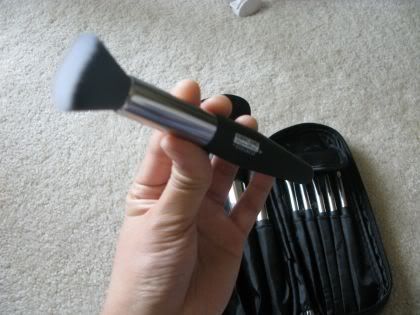 Flat-Top Bronzer Brush: ...is how it's labeled, but I actually tried using this as a stippling brush. It's super soft, and gives a pretty nice finish. The bristles are really tightly packed in there, so it gives a really good coverage. I've also tried using it as a bronzer brush, but it doesn't do so well picking up powder bronzer. I like to use it for contouring--it's pretty small to fit into the sunken areas on the face.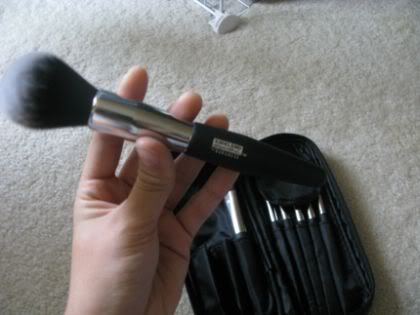 Large Powder Brush: I love this brush! It has got to be my favorite powder brush. This thing is softer than MAC's 150, and gives an excellent finish. It picks up a lot of product, and is just the ideal powder brush.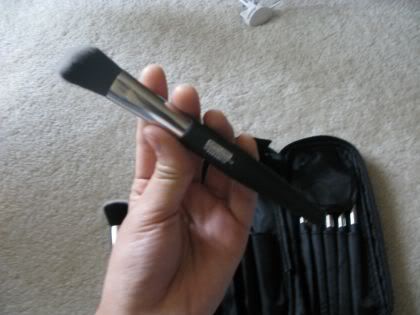 Angled Foundation Brush: I can't really figure out why anyone would want an angled foundation brush... anyway! The bristles on this brush are very soft, but are a bit tapered and stiff. Also, the width of the brush is a bit too small for my taste. It's a little streaky for liquid foundation, but may be fantastic for cream foundation.
Eye Shadow Brush: This is just a standard rounded shader brush. It picks up color pretty decently, but I just feel that the synthetic bristles don't do so well as an eyeshadow brush.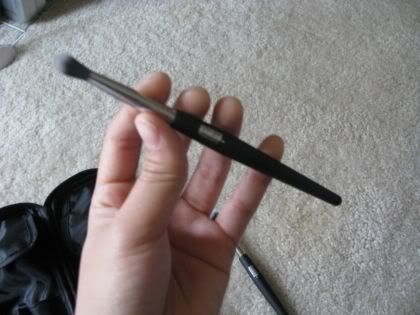 Eye Blending Brush: It's a rather small brush to be used as a blending brush, but it can be done. I think it's more of a crease bush. It's a tad bit too stiff for my taste. Doesn't pick up much color to be used as a crease brush. I'm not very impressed with this one.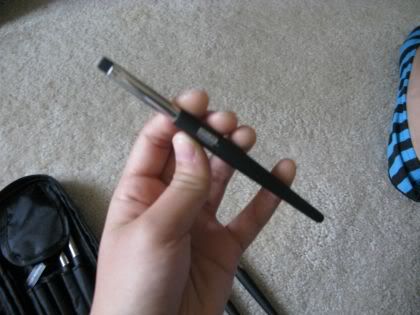 Flat Eyeliner: This is a fantastic brush for cream/gel liner. It gives you a precise line, and work very well. It's very stiff, and gets the job done.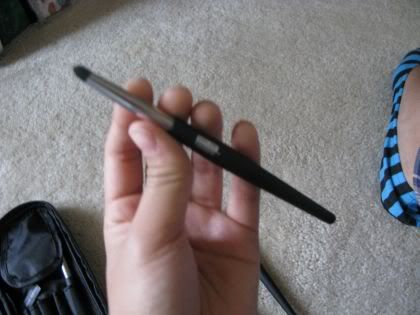 Eye Smudger: It's a tapered sponge tip. Do I need to say any more?
Brow Brush & Spooley Duo: Okay, this brush stinks. The brush part of it doesn't pick up ANY color whatsoever. I tried it out with my Anastasia Duo Brow Powder, and it sucked. The brush is super stiff, and it's like... a brush for a precise line... which is definitely not what I look for in a brow brush. The spooley side is okay, but again, I'm comparing this to my Anastasia spooley, so maybe that's what it is.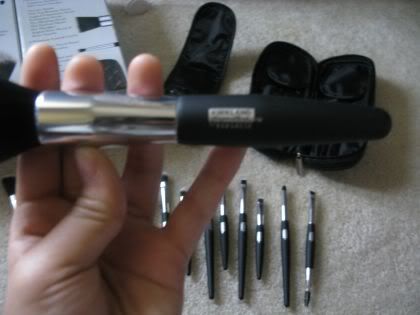 Here's how the handles look like on all of the brushes, including the mini sizes. Rubber handles, and very sturdy!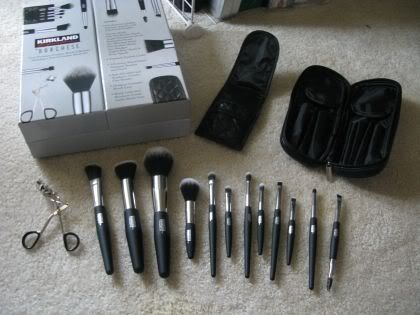 I hope you guys had a fantastic weekend and are having a good Monday! It's break now, so I don't have school. :)) I couldn't wait for break, but now that it's here, I have nothing to do! LOL. I like the sleeping in part. X) Hope you enjoyed this post! Later homefries C;
Best,
Jinna<3