Hi everyone :) I've been so busy recently, I haven't even had the time to stop by my own blog at all! AP (advanced placement) exams are coming up, and I have no idea what the hell is going on in my head with Microeconomics. -Sigh- besides that, I have a HUGE research paper thats due in a week and half, and mines not lookin so hott. I haven't finished any of the books that my author wrote, because I just don't have the time to read them! T^T
On a side note, for those of you who've read in my previous post(s), I had that concerto competition--turns out I didn't place... :( I was pretty happy with the way I played too! Talk about a big disappointment. The first place went to a pianist who played some Liszt, and the runner-up was a violinist who played a Sibelius piece (I think). There's always next time :/
anywho! I've been so busy, but whenever I drove by the mall, I took those chances and looked around for goodies :) It's not much, but a couple things I picked up!
I've been watching a little too much "What Not to Wear" on TLC recently... LOL. The most helpful advice that I picked up from the show was, go shopping for outfits, not pieces. It doesn't matter how many cute items you have, if they don't match, you can't wear anything with them! So this time, I went shopping for an outfit. :3
Here's what I picked up from Forever21: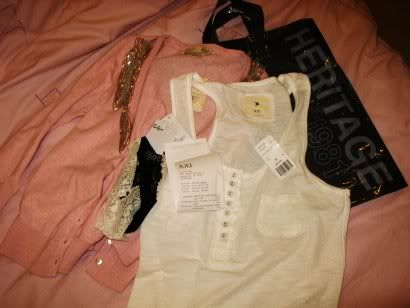 Sorry for the crappy lighting!
A short pink cardigan with some accents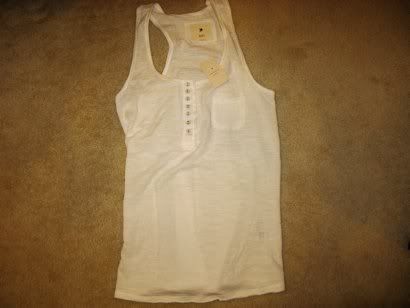 A simple white boho tank to match anything
And some headbands :) ..don't they look like underwear? LOL.
Here's what I picked up from Sephora:
The Smashbox primers were only $9 each! Great deals :) I picked up one for my mom too!
I also bought one of YSL's Rouge Volupte--talk about pricy!
Mines in #30, or in Peche Faubourg. All of them smell like candy o.o
A swatch in the nasty yellow lighting!
Taken in my bathroom :p under florescent lighting.

My bare lips--they're so pigmented, it's not even funny. It does lipsticks no justice! I usually use a lip erase, or lip concealer before :) This pic makes it look pretty neutral, but they're seriously red.


Here's with it on--no concealer under; not even moisturizer! As for the color, it's actually an orange-pink lipstick! The picture does not justice on the lovely color.

Also, within my busy and hectic week, one of my new and great friends, Jurang, came to sleep over! She's in one of the orchestras I do, but because she lives so far away, and her parents are out of the country, she stayed at my place for our concert :) We were super hungry after our rehearsal and decided to make some kimchi bocceumbap~


Here she is! She's going into a music major too :) she plays violin! we're the same age :p
yum yum yum. maybe I should put up a tutorial for this? what do you guys think? are you guys interested in korean food?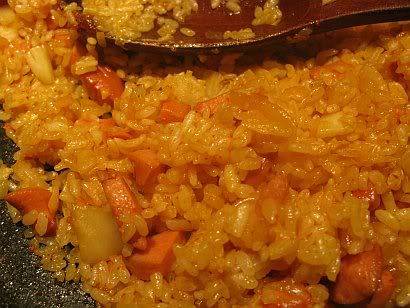 Here's a closeup! +_+ i'm getting hungry looking at this... we were so hungry we added the minimal amount of ingredients and chowed down ;D
Jurang fried the eggs :)

..and here she is!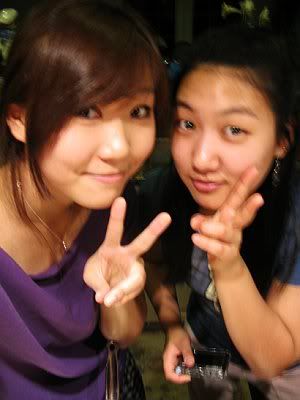 camwhoring it in the kitchen X)


I'll miss her so much! She's going to Boston for school--I'm still deciding between Boston and and New York!
Oh man. This is a really long post... not to mention ultra pic heavy!
Anywho, might as well make it even longer :p Here's just some random pics I took with my friends~

My BFFL Erik! :) Who says only the same gender can be bffls?


And his stand partner Tiffany! :) or I like to call her... T CHI!
Here's a pic of them playing together at school :)
I realized I forgot to take a picture of my other bff (who is also in that class LOL)! So i'll just throw this one in here :) This is walking to orchestra at school!
And to close this post:
Recently, i've been so exhausted I can't make it through the day without at least 2 hrs of a nap... I go to sleep around midnight-1am, and wake up around 6 30. Is that lacking sleep? Everyone else seems to pull it off fine... I can't do anything during the day because I have to sleep! o.o any suggestions? I know once you get in the hang of sleeping, it's hard to come out.. but maybe I need some exercise or something(?).
On the other hand, besides the stresses from school, my relationships with my friends as well as my prince charming have been great :p Ah~ young love. Man, I sound like some old lady saying that. LOL.
Anywho, today was the hump of the week, so it'll only go down from here! :"))
Goodluck everyone, and stay strong! (easier said than done)
Love,
Jinna